So to replace him, Guy has opted for a truly novel concept for a Liberal leader in the Westminster system: appointing as your spokesman for first law officer someone who doesn't have a law degree.
Member for Kew Tim Smith has a bachelor of arts in history and politics from University of Melbourne and completed a master's of international politics and was accepted into the Hansard Research Scholars Program at the London School of Economics. What he doesn't have is a law degree, previously the sine qua non of being an attorney-general.
And it is not as if the ranks of parliamentarians are bereft of law graduates. Come back John Pesutto, your party really needs you.
LEAGUE KINGS
Meanwhile, in the NRL, business tycoons had the finals wins. Cars king Nick Politis, chair of the Roosters, defeated the Titans. Wagering millionaire Matt Tripp, chair of the Storm, defeated Manly. And Hollywood star Russell Crowe, part owner of the Rabbitohs, defeated Penrith.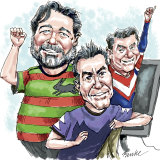 Crowe famously took half of Hollywood to a game earlier this year with Chris Hemsworth, Isla Fisher, Natalie Portman and Jeff Goldblum in his suite. But the VIP scene was a world away from this month's finals.
The NRL is doing a road trip of regional Queensland for the opening two rounds of its finals series with games in Townsville, Rockhampton, Mackay and the Sunshine Coast before Brisbane hosts the final three games of the year. Last week, Queensland Premier Annastacia Palaszczuk was joined by her deputy Steven Miles, Treasurer Cameron Dick and Sports Minister Stirling Hinchliffe for the grand final announcement. Everyone wanted a slice of the pie.
DOMAIN GAIN
Talk about a reversal of fortunes. After all, it was less than two years ago that Nine's former chief executive Hugh Marks and managing director of commercial partnerships Lizzie Young joined the board of Nine's online real estate portal Domain as non-independent directors to keep a closer eye on the digital outfit locked in a one-on-one battle with NewsCorp's majority owned realestate.com.au. There's nothing like having the boss peering over your shoulder is there?
Last month, Domain chief executive Jason Pellegrino reinstated a dividend for shareholders and said Domain would pay back JobKeeper funds to the government.
Loading
Marks left in April. Domain reported a 19 per cent climb in underlying earnings last month, and last week, there was even more good news for Pellegrino. The former Google executive scored a neat pay bump. His base salary has lifted from $1.2 million to $1.25 million while his short-term incentive plan increases from 80 per cent of his base salary to 120 per cent of his base salary – so long as he hits financial targets which have also increased.
There have been other changes inside the building with three key senior executives departing its leadership team in the past fortnight, with those left behind tipping a major shake up. Watch this space.